Drilling Drawworks
Overview
Drilling drawworks is the core component of the drilling rig, which has the function of running drilling tools, casing, controlling bit weight, etc. And meanwhile, it also can be used as the middle transmission mechanism of the rotary table, and transfer power for the rotary table.
Designed and manufactured in accordance with API Spec 7K standards.

Features
The drilling drawworks is featured by compact structure, simple transmission, big transferred power, effective performance, convenient installation and adjustment, easy maintenance and safe and reliable operation.

The drilling drawworks can be divided into two kinds: single drum drawworks and double drum drawworks. The brake type of the main drum also has two kinds: belt brake and hydraulic disc brake.
The auxiliary brake of the main drum has three kinds: water cooled brake, hydromatic brake, and pneumatic disc brake.
The drilling drawworks mainly consists of the following: frame & shield, drum assembly, brake system, auxiliary brake, etc. And for the double drum drawworks, it also consists of the sand drum assembly, sand drum brake system, etc.
Design and Manufacture Standard of Drilling Drawworks
SY/T 5532: Drawworks for drilling rig
API Spec 7K: Specification for Drilling and Well Servicing Equipment
SY/T 5023: Brake block for drilling rig
SY/T 5170: Petroleum and natural gas industries specification for wire rope
SY/T 5595: Oil drilling rig drive roller chains

GB/T 23505: Petroleum drilling and workover rig
Technical Specification
The product models of the drilling drawworks are as the follows: JC14, JC14/11, JC18, JC21, JC21/11, JC28, JC28/11, etc.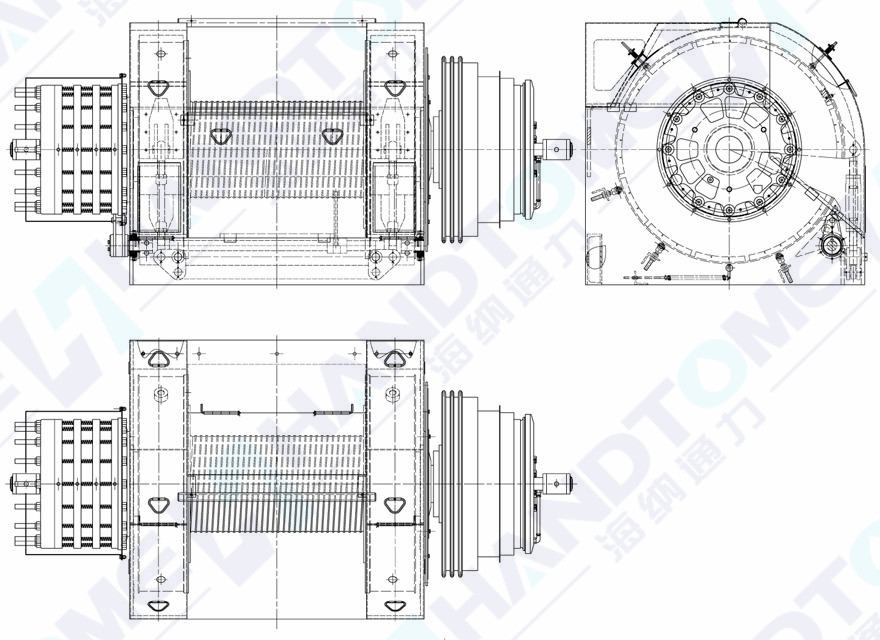 * If the products you needed not listed in this page, please contact us.